I have an HP Omen (HP 15-dc1044na) laptop which has now become my primary work machine as my old desktop blew up.
I need the convenience of a dock so that I can move my laptop without plugging in a million cables and to drive my main display and after speaking to HP online chat, they recommended this dock.
I have a UD-ULTCDL dock which has:
4k HDMI plugged in (for ultrawide display - screen displays and works correctly)
Speakers (standard 3.5mm and work perfectly)
Various USB devices (phone charger, external harddrives etc… all working correctly)
I have a huge problem though with connectivity - whether I'm using the dock for ethernet or have ethernet plugged directly into my laptop or using wifi with the dock plugged in.
When the dock is powered on and plugged into my laptop and the ethernet plugged directly into my laptop (wifi turned off), pinging google.com is intermittent and very slow with my internet speed reduced to 0.2mbps. Without changing any set up and just turning off the dock, the ping quickly becomes stable and fast and my speed goes up to 16mbps.
To install I downloaded the latest 10 release. I've also followed the instructions and tips in all of these threads:
https://support.plugable.com/t/ethernet-port-speed-issues/19404/7
(there are others but can only put in 1 as a new user)
I've included a pictures of my desk setup: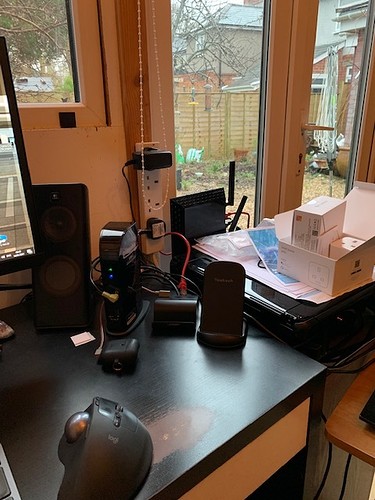 I wanted to include pictures of upload/download comparisons but not allowed to as new.