Hi there - I purchased a ULTC4K triple display docking station very recently. Prior to starting my laptop (Dell XPS13-1970) I installed the DisplayPort drivers from Plugable's site as the directions stated.
I have x3 LG FHD monitors (27MN60T-W.AUS) and things worked as expected the first day. After unplugging the docking station, something seemed to have changed.
When plugged back in, there was a lot of flickering as Windows 10 worked to get the orientation figured out. Now, my laptop is only recognizing 1 of the 3 external LG displays which is connected via HDMI. Bud oddly enough, 1 of the monitors is showing my Windows desktop (but I can't reach it) and the 3rd is black.
Not sure how to fix this, I've tried to uninstall and reinstall drivers without any luck/change.
Device Manager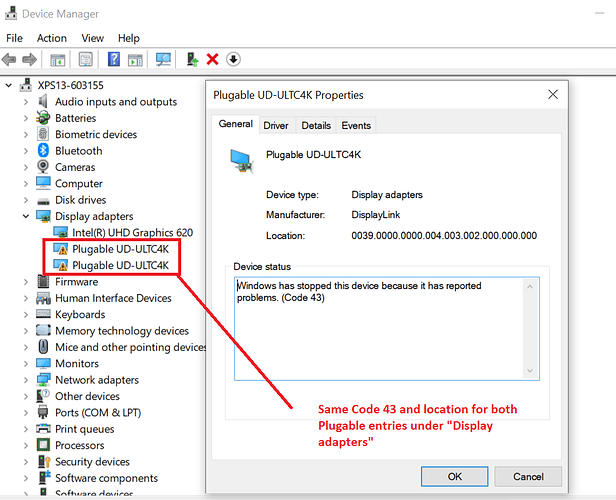 Current Setup showing what Windows recognizes. The only recognized external display is connected to dock via HDMI. Other 2 are via single HDMI to DisplayPort cords.
I don't think it's fair to blame the HDMI to DP cord, this was working as expected when I first connected everything at first use.
Please help! Not fun.