I recently attempted to configure a USB3-SWITCH2 device in front of my dock and found that when I do, my screens will begin to reset. They will stay on for a bit, then go black, then come back on. The two devices connected to my displayport outputs on my dock will go simultaneously, while the one connected to the USB output seems to go out independently. Needless to say, this has been frustrating.
At the end of the day, I'm looking for a solution that will allow me to take advantage of my monitor set up on two or more computers and toggle between the two at the press of a button.
Will my current set up allow that, and if so, why the frustration? Is there an alternate set up that would be better?
Here is a diagram of my configuration.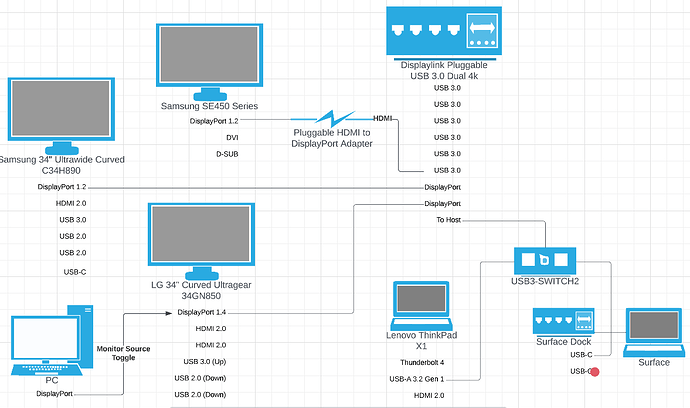 I want to add that the PC connection is incorrect and can be ignored. I manually toggle my monitor for that. Also the Lenovo connection is what we are talking about here. The surface is what I intend to connect later. Right now, this is only for the one laptop.