Just received my TBT4-UDZ last night, and can't get my setup working right with a number of issues. I need help to correctly configure this setup. I am local, in Canyon Park, Bothell if this will help with debug efforts.
Setup:
Microsoft Surfacebook 3, 32GB RAM, 1TB SSD
Monitor - Samsung QN50Q8DTAFXZA [4K, 50" HDMI]
Monitor - Samsung QN75Q80TAFXZA [4K, 75" HDMI]
1 Gig Wired Ethernet
Prior to purchasing, I connected my Surfacebook 3 to a coworker's Plugable UD-3900PDZ with 3x 4K monitors. All three monitors connected, displayed properly, and were configured for 3840 × 2160 operation in addition to the Surfacebook 3 display, also running at 3840 × 2160 resolution. I also tried my USB4-240W 8K cable with this UD-3900PDZ setup, and it also worked, flawlessly. This gave me the confidence to order a TBT4-UDZ unit.
With the TBT4-UDZ setup I tried my USB4-240W 8K cable which worked with the UD-3900PDZ, and the TBT4-UDZ is unable to negotiate USB-C PD power. It keeps trying at 1-Second intervals, and keeps failing. I'm currently using the delivered USB4 cable, which does allow USB-C PD power negotiation to complete. I used the USB4-240W 8K cable in a number of different applications, and it's never failed until now with the TBT4-UDZ unit.
I'm wondering if the multi-monitor display issue is the display adapter being used. I can't get the system to switch to using the NVIDIA GeForce GTX 1660 Ti with Max-Q Design adapter.
This is the best I can do with this TBT4-UDZ setup, and it looks horrible.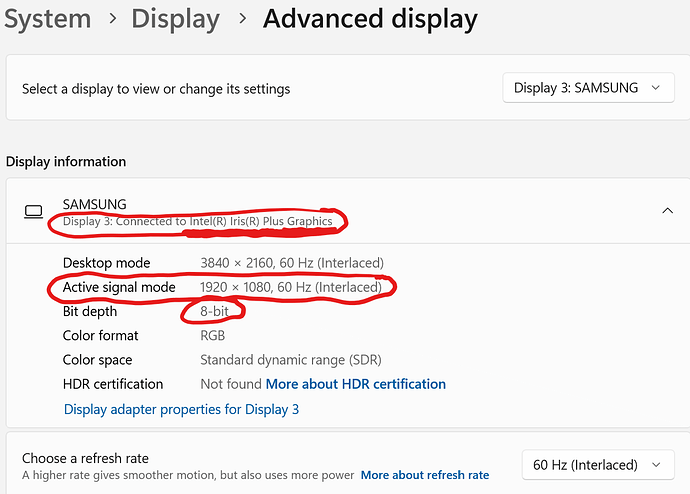 When I use a Microsoft docking station, I am able to drive the Samsung TV in 4096×2160 and 3840×2160 modes.
Anything else I can try to get both monitors to work in 4K mode?