I bought a TBT3-UDV about a month ago, but only yesterday tried it with a 4K monitor and it reports this message most times I connect the laptop: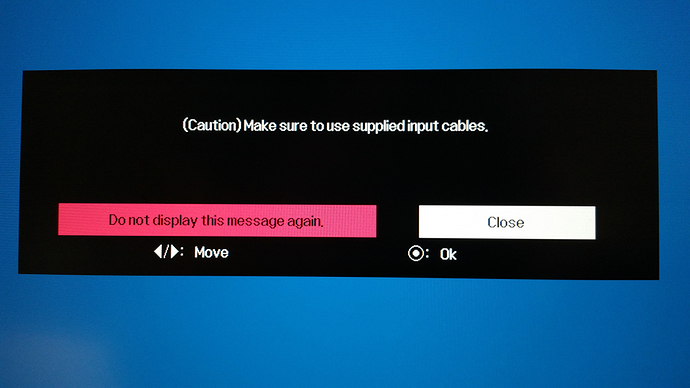 Half the time it wouldn't even connect and I can see the second display cycle in Windows configuration as it appears and disappears, as if the cable connects and disconnects. Once connected, though, it stays connected and just shows this message.
It's as if some of the DisplayPort parameters produced by TBT3-UDV are not up to their nominal values.
My Setup:
The monitor is LG 27UD59P connected via the shipped DisplayPort cable
The computer is HP Spectre x360 Convertible 13-ae0xx running Windows 10, fully updated with Windows and HP updates.
TBT3-UDV connected via the shipped Thunderbolt3 cable
Some of the troubleshooting steps I took:
My laptop comes with a TB/HDMI dongle. When I connect the monitor via that dongle and the HDMI cable, the monitor doesn't complain and everything works as expected
When I use the DP/HDMI converter that comes with TBT3-UDV and connect the monitor via TBT3-UDV/HDMI cable, I see the warning message above
I read in a few discussions in these forums that powering down TBT3-UDV would reset it and tried all of the above with powering down TBT3-UDV and there was no positive effect
Updated my laptop BIOS to the latest supplied by HP and tried all of the above again and it still doesn't work.