Hello -
I have the Plugable USB Audio Adapter plugged into my dock. Everything works fine for a while. I can dock/undock, sleep, reboot, no issues. But then what seems random to me (but I'm sure there's a reason) the volume gets SUPER quiet. So quiet that with the soft volume and the hard volume on my speakers turned all the way up, I can barely make out what people are saying.
I'm a technical user, and I've done a ton of troubleshooting. It's not a simple volume issue, can see in the screenshot below that the master volume as well as all the application-specific volumes are turned all the way up. A full reboot or shutdown doesn't fix it. Physically removing the USB adapter and plugging it back in doesn't help. I've turned off all the "spatial" sound settings and audio-enhancements, no difference.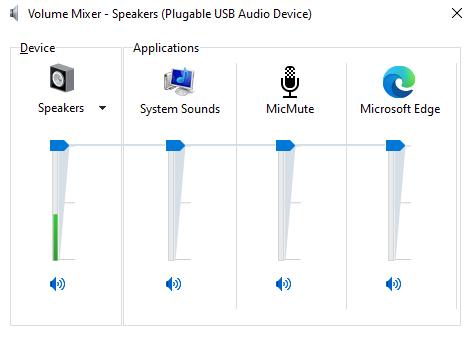 The only way to fix the issue is to uninstall the "Intel Smart Sound Technology for USB Audio" driver, and reboot. After the reboot, the driver is transparently reinstalled and all is well without me having to do anything else. However the issue is really frustrating and seems to pop up at the worst times when I'm redocking and only have a few mins until my next meeting.
Any ideas?