Brand New UD-3900H is completely freezing when in Microsoft Teams. Need help ASAP,
Hello Felix,
Thank you for contacting Plugable support. We are sorry to hear you are experiencing this issue. My name is Michael S. and I would be happy to help assist. We noticed that you opened up a ticket through our support system. For reference that ticket number is #369676. We went ahead and responded to that ticket so please feel free to respond within our support system to continue our correspondence regarding this matter.
For anyone who comes across this thread that may be experiencing similar behaviors in regards to flickering/freezing behavior when using Microsft Teams, I offer some helpful troubleshooting steps below. If these steps do not help we would ask that you contact us directly at support@plugable.com so that we may help offer direct support with your specific setup.
Flickering, freezing behaviors when using Microsoft Teams can be due to several different factors. In this particular case, the user stated that the same exact behavior also occurred when using a different brand docking station, the Wavlink WL-UG39DK1-BL. Given this data point, we can refocus our troubleshooting efforts on the laptop.
Below are the following suggested steps.
The first step is to ensure that you are using the latest Microsoft Teams software client. You can download the latest version here: https://www.microsoft.com/en-us/microsoft-teams/download-app

We also recommend that you ensure that you are running the latest software updates for your laptop. You can check with your laptop manufacturer for the latest software patches, BIOS, and updates.

The next step is to conduct a clean, manual install of the latest DisplayLink driver using the DisplayLink Installation Cleaner utility to ensure that the DisplayLink software is in a known good state. To do so,
Please disconnect the dock from the system and please disconnect the power cable from the dock so it turns off completely (this is important so the unit resets). Please keep everything disconnected until the last step.
Uninstall any and all software with 'DisplayLink' in the title that is present from within the Control Panel → Programs and Features. Don't worry if these entries are not present or if the process does not work, please just move onto the next step.
Download and run the DisplayLink Installation Cleaner utility, found here → https://plugable.s3.amazonaws.com/bin/DisplayLink/DisplayLink+Installation+Cleaner+10.1.2860.exe and ensure it displays "Cleaning Complete" when done (video walk-through if you need it → https://youtu.be/AcVV1gD_FvI)
Once the Cleaner has been run, reboot the system (even if not prompted to).
Now download and install the 10.1 M2 DisplayLink software driver, found here → https://plugable.s3.amazonaws.com/bin/DisplayLink/DisplayLink+USB+Graphics+Software+for+Windows10.1+M2-EXE.exe
Reconnect the power cable to the dock first. Once the dock is powered on, reconnect it to your system. If the device is not detected, please reboot the system.
Additional steps to try:
Try setting "Turn off the display" and "Put the computer to sleep" to Never in Power options and disabling USB selective suspend settings.
Right click on the battery in the lower right hand corner
​

​
Select Power Options
​

​
Next to your preferred power plan click on "Change plan settings"
​

​
Under "On battery" and "Plugged in" change both "Turn off display" and "Put the computer to sleep" to Never.
​

​
Click Save Changes. Before closing this windows, if you have the "USB selective suspend setting" under your Change advance power settings lets go ahead and disable that as well. To do so:
a. Select "Change advanced power settings"
​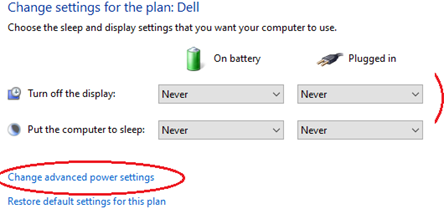 ​
b. Expand "USB settings"
​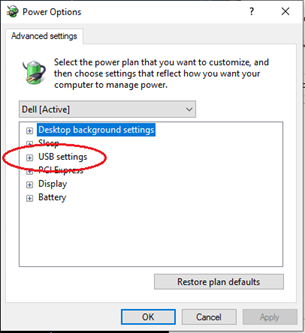 ​
c. If you see "USB selective suspend setting" go ahead and expand this and change the setting to
"Disabled"
Click OK
Try disabling GPU hardware acceleration in MS Teams. To do so, open Microsoft Teams → Click on your profile photo → Setting → Display GPU hardware acceleration.
​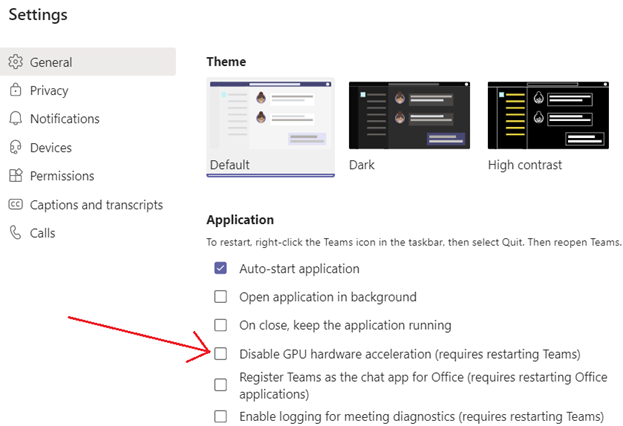 ​
Best regards,
Micahel S.
This topic was automatically closed 20 days after the last reply. New replies are no longer allowed.