hello, I am having trouble with this device disconnecting every 5-10 mins.
setup
Plugable USB C to M.2 NVMe with
Samsung 970 EVO Plus 1 TB NVMe M.2 Internal SSD
asus.com/uk/Laptops/ZenBook-Pro-Duo-UX581GV/
I have tried connecting from usb3 to usbc - light flashes blue, shows in explorer then will disconnect but blue light still flashes and is removed from explorer.
I also tried connecting via https://www.amazon.co.uk/gp/product/B078TW6K23/ using asus to itec via tb3 and itec to plugable using usbc to usbc.
When connecting via this device, the monitors and usb3 devices do not disconnect, only the pluagable device.
I have turned off power management for the devices - see attached photo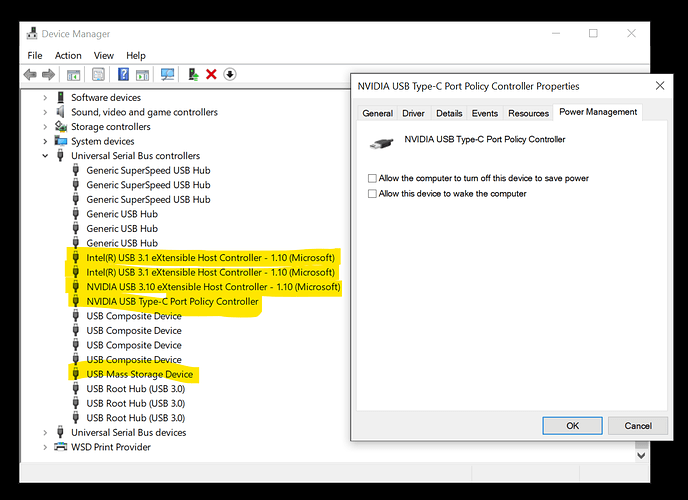 Intel usb 3.1 extensible host controller
nvidia usb 3.1 extensible host controller
Nvidia usb type-c port controller policy controller
Usb mass storage device
from the event viewer on disconnect
Warning - An error was detected on device \Device\Harddisk2\DR10 during a paging
operation. (eventID51 source=disc)
[next event is information:Volume E: (\Device\HarddiskVolume21) is healthy. No action is needed. eventId98 source=Ntfs (microsoft-windows-Ntfs)]
System

[ Name] disk

[ Qualifiers] 32772

Level 3

Task 0

Keywords 0x80000000000000

[ SystemTime] 2020-01-02T14:58:14.405623200Z

EventRecordID 87978

Channel System

Computer xxxxxx

Security

EventData

\Device\Harddisk2\DR10
030080000100000000000000330004802D0100000E0000C000000000000000000000000000000000D79A060000000000FFFFFFFF010000005800000800000000EB200A1242032040004000000F0000000000000000000000A84E2D8089CFFFFF0000000000000000A049E47D89CFFFFF000000000000000090F15B00000000002800005BF19000002000000000000000000000000000000000000000000000000000000000000000
---
Binary data:
In Words
0000: 00800003 00000001 00000000 80040033
0010: 0000012D C000000E 00000000 00000000
0020: 00000000 00000000 00069AD7 00000000
0030: FFFFFFFF 00000001 08000058 00000000
0040: 120A20EB 40200342 00004000 0000000F
0050: 00000000 00000000 802D4EA8 FFFFCF89
0060: 00000000 00000000 7DE449A0 FFFFCF89
0070: 00000000 00000000 005BF190 00000000
0080: 5B000028 000090F1 00000020 00000000
0090: 00000000 00000000 00000000 00000000
00a0: 00000000 00000000
In Bytes
0000: 03 00 80 00 01 00 00 00 …€…
0008: 00 00 00 00 33 00 04 80 …3…€
0010: 2D 01 00 00 0E 00 00 C0 -…À
0018: 00 00 00 00 00 00 00 00 …
0020: 00 00 00 00 00 00 00 00 …
0028: D7 9A 06 00 00 00 00 00 ך…
0030: FF FF FF FF 01 00 00 00 ÿÿÿÿ…
0038: 58 00 00 08 00 00 00 00 X…
0040: EB 20 0A 12 42 03 20 40 ë …B. @
0048: 00 40 00 00 0F 00 00 00 .@…
0050: 00 00 00 00 00 00 00 00 …
0058: A8 4E 2D 80 89 CF FF FF ¨N-€‰Ïÿÿ
0060: 00 00 00 00 00 00 00 00 …
0068: A0 49 E4 7D 89 CF FF FF Iä}‰Ïÿÿ
0070: 00 00 00 00 00 00 00 00 …
0078: 90 F1 5B 00 00 00 00 00 ñ[…
0080: 28 00 00 5B F1 90 00 00 (…[ñ…
0088: 20 00 00 00 00 00 00 00 …
0090: 00 00 00 00 00 00 00 00 …
0098: 00 00 00 00 00 00 00 00 …
00a0: 00 00 00 00 00 00 00 00 …