In the TBT3-UDZ specifications, it lists the USB ports as such: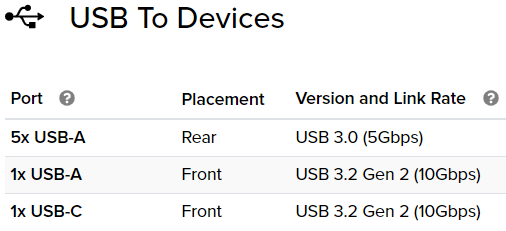 Does this listing correspond to the number of underlying USB controllers in the dock driving the ports (with the ports in each line sharing the bandwidth of the controller/USB speed), or is it just an inventory of ports (that might have a different configuration of underlying USB controllers/shared bandwidth) and if so, what is the actual underlying configuration?
E.g., if a user plugged in 4 different USB-to-SATA SSD drives (each capable of 5 Gbps/~500 MB/s throughput) in to the USB-A ports in the rear, would the drives in aggregate be capable of 20 Gbps/~2000 MB/s throughput (that, up to the PCIe x4 limit of the Thunderbolt uplink)? Or maybe just 5 Gbps/~500 MB/s, if all 5 rear ports share the same 5 Gbps USB controller – or somewhere in between if maybe the sharing falls at different ports?
Likewise for the two 10 Gbps ports on the front. Do they share bandwidth between each other, or are they independent 10 Gbps channels that could be fully used (again up to the PCIe x4 limit of the Thunderbolt uplink), like say if each had a USB 3.1 Gen 2 attached NVMe disk attached?
Thanks for any clarification!